Just like you, your house needs to breath. The bigger and deeper the breaths of fresh air it can get, the better the circulation of clean air through your home for your family to enjoy. Your roof is like the lungs of your house, allowing air in and out from the outside. If you, for example, had a cold or a cough and it was challenging to breath your whole body would feel the effects. Well, the same is true for your home!
Ventilation is Same as House Breathing: 
As we discussed in our previous post, ventilation is to the roof what breathing is to the human body. Fresh air cleans the lungs and helps to bring more oxygen to the cells. Fresh air improves the cleansing action of your lungs as well. When you exhale and breathe out through your lungs, you release airborne toxins from your body. The increased oxygen level in the body brings with it increased energy to do the things you need to do. 
Home Needs a Flow of Fresh Air: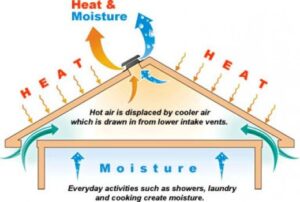 Your home needs to have a constant flow of fresh air moving through it, especially in those winter months when the windows are closed and the heat is on. If your home is not getting plenty of ventilation, it can create mold problems that are a real challenge to deal with as it progresses, not to mention a health risk for your family. The best way to offer your home the ventilation it needs is to make sure your roof is clean and up to date.
Here for All Your Roofing Needs!
Is your house breathing free? Not sure? Call us at American Standard Roofing and we are happy to come do a FREE 'Wellness Check' on your home. Don't wait until you have a sick home, be proactive and make sure your family has the fresh, clean air that it needs. At ASR, we are certified and licensed roofing contractors. We also have over 36 years of experience in the industry. American Standard Roofing stands behind it's work.
That is why we are #1 metro Detroit roofers.