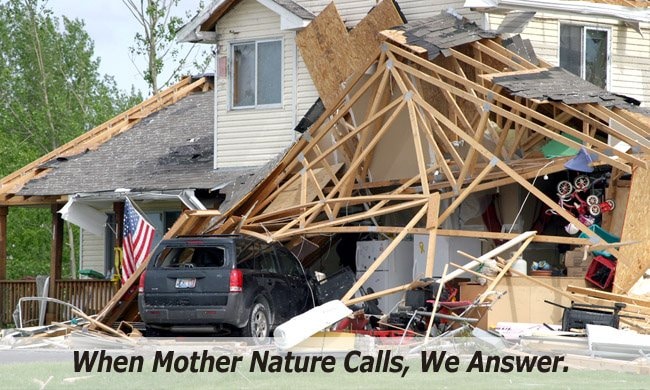 In 2014, we had a historic amount of storm related damage in certain Michigan areas. That means that every trade was overflowing with work, which is great for the local economy. It also meant that a lot of storm chasers came in from other states to try to take advantage of the situation. We have been hearing reports from both homeowners and city officials that a lot of unhappy homeowners have been left with uncompleted jobs. The way these gypsy types work is that they will ride into town and convince a local contractor to work under their license. They have the unsuspecting homeowner sign a blank contract that allows them to deal directly with the insurance company. Not suprisingly, they tend to know a lot of these insurance adjusters pretty well and there have been many stories published indicating that often times a contractor will pay off these inspectors to get more money for themselves. In certain states, the contractor is not even allowed to meet with the insurance adjuster anymore to prevent this from happening. The out of town trade will complete the minimal amount of work that they can get away with in order to keep the homeowner and local business owner happy, until they get their checks and then they are out of here. We even ran into a couple situations last year in which a homeowner was promised a certain quality material only to get bait and switched by having a cheap alternative product installed at the last minute. Unfortunately, many homeowners wouldn't even notice that this had occurred.
All of this criminal behavior has left numerous local contracting companies in a tough place because they are both legally and morally obligated to service these customers that have been taken advantage of. The appeal of some quick cash has caught them between a rock and a hard place, many of which have already decided to shut down shop before the lawsuits start flooding in. Homeowners are starting to come to the realization that no one is coming back to finish their jobs, and that the work that has been completed already is highly circumspect. The recourse available for such deception is questionable at best, hard to obtain and limited in funds. In Canton, three years after a similar hail storm fiasco, it is not the homeowners that are getting sued by the insurance company's for the fraud. Amazing as it is, these poor people are going to end up having to pay back each and every cent that they took in good faith as an insurance payout. They will be lucky if there are not criminal charges pressed as well. because ultimate the insurance company can hold the homeowner 100% responsible.
If you feel that you may be a victim fraud or any other deceptive practices, we would be more then happy to come give you our honest opinion. It is important to us that we all work together to support the local community and to help them fully recover from last years storm damage. Leaving these projects half finished will potentially destroy your home over time, and will also give the insurance company a great reason to cancel the policy and come after you for the money they have already handed out. We never have you sign a blank contract and will always let you deal directly with the insurance company. This ensures complete transparency throughout the entire process, because even though most people don't see it as an actual out of pocket expense, taking the insurance companies money truly is. They are smart people, and I promise you that they will make there money back from you one way or another. It will most likely be through raising all of our current rates, but if that doesn't work the lawsuits will start up all over again.