Shingle Blowoff Reasons: A Comprehensive Guide by ASR
No gimmicks! Rock-bottom prices every day.

Shingle Blowoff is Common

:

Shingle blowoff is a very common phenomenon. In today's post our team of experts here at American Standard Roofing will discuss shingle blowoff in depth. Like many Metro Detroit Michigan residents discovered this winter, wind is a very powerful force. Every year the storms blow in, and leave wreckage in their wake. Unfortunately, that wreckage sometimes includes shingles from your roof.
What To Do

:
If you wake up and see shingles all over your yard, the first thing to do is call a few roofers to get a couple of estimates. Have a tarp installed. The quicker you can do this, the better. Exposed elements can cause more damage and leaks to your home.
Get a Professional Opinion

:
Even though you might only see shingles blown off on the ground, there could be more damage that you can't see from the ground. Hail can crack shingles and damage flashing for example, but you won't be able to see that unless you are up on the roof. The best plan is to bring out a professional as soon as possible.
Was the Roof Installed Properly

?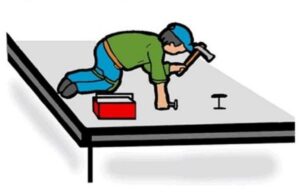 Ask your contractor why the shingles blew off. Most shingles withstand 100mph winds. Check your shingles for installation if they are blowing off.
Technical Reasons for Shingle Blowoff

:
There are a couple of things that could be happening resulting in a shingle blowoff.
Each shingle has a strip across the top of it where the nails have to be placed.

If the roofer was lazy and landed a few nails off of the strip, then that shingle hasn't been securely fastened

. Check to see if this was a reason.
Each shingle also has an adhesive strip on the back which needs to be clean.

Dirty adhesive strips can lead to improper sealing

. This would leave your shingles literally flapping in the wind.
Contact Your Insurance Company

:
Contact your insurance company after finding real issue. If the roof was improperly installed from the beginning, you are likely to have continuous problems with it. We find that it is almost always cost effective to replace roofs rather than repairing them.