In today's post we discuss one of the two most common Michigan winter roofing issues. We will go in detail on the first issue today and will follow up with the second issue in the coming days.
Common Michigan Winter Roofing Issues

:

Here at American Standard Roofing, our experts agree that two most common winter roofing issues are:
Ice Dams & Buildup
Leaking Roofs
As mentioned above, for the sake of brevity, we will go over Ice Dams & Buildups today. We will cover Leaking Roofs in a follow up post soon.
Ice Buildup Explained

: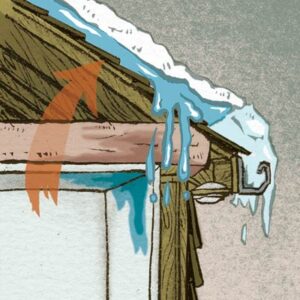 We often see ice buildups in Michigan winters. This is actually common in areas that have a lot of snow fall and fluctuating colder temperatures. The cause is simple. Snow melts when temperature goes above freezing and then turns to ice when temperature falls below freezing. This re-freeze of ice on surface of roof forms ice dams that cause long term damage to roofs.
Prevention Tips

:
First and foremost, we recommend clearing of roof after periods of heavy snowfall. Ice dams lead to shingle damage on roof ending up costing home owners a lot of money. This simple prevention method can help avoid that.
Gutters also play a key role. Make sure your gutter systems are working properly providing proper flow for runaway water.
We recommend being proactive. Have good insulation and ventilation systems in place before winter arrives. Proper attic insulation and ventilation keeps roofs temperature stable. This helps prevention of ice buildup on roof top.
We highly recommend contacting our team here at ASR to help guide you and give a list of services we provide. Stay tuned for our follow-up article on Michigan winter roofing issues.
Here for All Your Roofing Needs

:

We are certified and licensed roofing contractors. We also have over 36 years of experience in the industry. American Standard Roofing stands behind it's work because our reputation is important to us. We believe in never sacrificing quality for easy profits. We also stand behind our services for the lifetime of the product, both labor and material. That is why we are #1 metro Detroit roofers. Give us a call today at (248) 350-2323 to see how we can help you out.