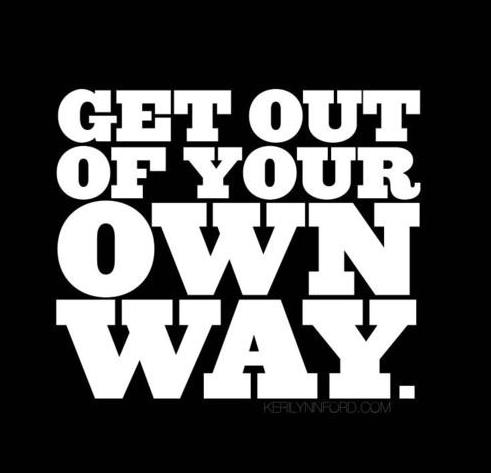 Whether it is ego that is the ultimate cause, or just a general human flaw, it seems that we can be our own worst enemies in business. Life is truly amazing; over all of these countless years it has managed to thrive without any assistance from us. It will also continue to do so long after we are all gone. Even though this is hard to comprehend, let alone truly accept, we must remind ourselves of this fact every once in a while. Things have a way of working themselves out naturally, if and when we allow them to actually do so.
It is good to be aggressive to an extent; to be driven, motivated, and a hard working individual. The problem is when these factors blind us from our immediate environment, when they cause us to miss the simple facts sitting right in front of our noses. We tend to get so caught up in the daily hustle, in that non stop grind, that we no longer pick up clear signals that we need to adjust our behavior or thinking. This effect can be quite disastrous if not properly addressed in time.
It is easy enough to talk about this problem, harder to recognize when we are doing it ourselves, but to learn to overcome it is another thing all together. Tackling the issue from a business perspective, opposed to the endless philosophical conundrums that arise when addressed on a personal level, it all comes down to the implementation of a routine. Anything you want to accomplish is completely dependent on becoming a standardized practice, incorporated into the daily process of your business life. With that being said, now comes the challenge of taking an abstract issue, that is both hard to define or recognize, and turning it into an actionable game plan.
This task requires a nearly meditative mindset, you need to learn to disassociate for a minute and go "meta" In other words, take a step back and look at what you are doing from another perspective. Do not ignore everything that happened that day and go to a "happy" place. Analyze everything with a focused and open mind, let any unconscious thoughts bubble up that have been quietly eating away at you. Maybe you didn't handle a sales to the best of your abilities, and it would be worthwhile to think of alternative scenarios that would be more likely to conclude in a sale. Going even further along these lines, maybe it is time to dig up some old sales training that you have previously studied and to start implementing it into your presentation again. Or maybe you haven't realized how irritated you have been, for whatever reason, and need to keep a better eye on your mood so that you do not cause any issues with your employees morale.
Set aside a designated 30 minutes to explore these, and any other, constructive ideas that come to mind. If you feel completely blocked, say for instance the only thing you can think of is a TV show or some stupid song that got stuck in your head, don't stress out about it. Getting frustrated is most likely just going to be counter productive, unless you are one of those people that thrive off of this energy. Do something that you really enjoy instead, whatever that may be. It is sometimes the little things that truly make us appreciate being alive, and if you are lucky they can even make you realize how inconsequential all of these seemingly gigantic problems of yours actually are.