Thinking Long Term

:

In today's post our panel of experts will be discussing thinking long term. With such a small percentage of businesses surviving past their first year, it is important to when thinking long term so customers can trust a business's brand name. Our experts explain that thinking long term means learning the basic principles and applying them correctly. In today's post, we will discuss what makes us stand out from the rest.
1.
Test of Time

:
Our business has stood the test of time. That means, it does not revolve just around us. A lot of business owners just want to do it all, from sales to accounting, and this may work in the short term. But to build something that will last generation you have to be able to trust people to do their jobs. Here at American Standard Roofing, we hire the most competent people and then give them all the necessary freedom and tools so that they can perform optimally.
2.
Expand Your Service Provision

:
We always try to create a win-win situation. In the roofing industry, thinking long term is crucial. Competition is fierce. We try to turn every situation to our advantage by providing outstanding customer solutions.  We have a habit of learning from our mistakes so the next time we can gain positives if same situation arises. We explore every possibility when it comes to customer satisfaction and make sure that we are capable of offering every service that a homeowner may need.
3.
Focus on Niche

: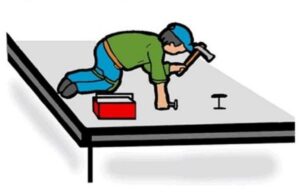 Our experts explain that the reason why we are number one is because we focus on our core business. Instead of being jack of all trades, we master one: roofing. We are the absolute best in the business when it comes to the these core competencies. In dealing with customers it is very important to maintain flexibility so that you can accommodate a wide variety of people. In our case, our company mission was to focus on roofing. And we made sure we pursued it wholeheartedly and 100% of the time.
We're Here For All Your Roofing Needs

!

We are certified and licensed roofing contractors. We have a lot of experience with thinking long term. We specialize in proper method & procedures. We also have over 36 years of experience in the industry. American Standard Roofing stands behind it's work. Our reputation is important to us. We believe in never sacrificing quality for easy profits. We also stand behind our services for the lifetime of the product, both labor and material. That is why we are #1 metro Detroit roofers. Give us a call today at (248) 350-2323 to see how we can help you out.