Keeping Roof Healthy: Spring Maintenance Tips by ASR
No gimmicks! Rock-bottom prices every day.

Keeping Roof Healthy

:

In today's post, our panel of experts here at American Standard Roofing discuss tips for keeping roof healthy. As winter unwinds it is especially necessary to understand importance of keeping roof healthy. Our team will highlight a few things that homeowners can keep an eye out for.
Somethings Need Attention

:
As the snow melts away, people see a clearer picture of how much damage their home's roofs suffered. Winters can be brutal for any home. There are a bunch of things that can be left or ignored. And then there are some things that require immediate attention for keeping roof healthy. For example, homeowners can procrastinate on painting their house. That said, we highly advise not to be lazy if you see shingles lying on your front yard. A roof needing maintenance can end up with a lot of costs for homeowners.
Things That Require Immediate Attention

: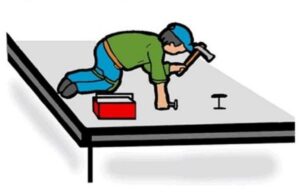 As mentioned above, there are things homeowners can be lazy about and there are things that require immediate attention. Our team has come up with a list of items below that homeowners should always keep an eye on for keeping roof healthy. If you see any of these signs, that is a red flag.
Missing or broken shingles

: This is the most important as we explained above. If you want to avoid a plethora of roofing issues, make sure your roof is secure with no missing or broken shingles.

Signs of moss or algae

: if you have any of these growing, this means your shingles are rotting. Rotting shingles can result in a lot of expenses. Never take moss or algae lightly.

Deteriorating shingles

: this means that shingles that are curling, buckling and blistering need to be carefully looked at. This is a major red flag.

Rust spots

: we advise homeowners to check for rust spots in flashing. If you have cracked caulk, chances are there can be rust there as well. Rust can lead to all sorts of issues.

Cracked rubber boots and vent pipes

: this shows aging and can cause water and other natural elements to penetrate inside the roof.

Damaged chimney cap

: a damaged chimney cap can lead to all sorts of critters and insects inside the home.
Hire a Professional

:
If you notice any of these items during your inspection, it's a good idea to contact a local roofing professional to perform a more thorough roof inspection. A professional will be able to give you a quote for repairs and roof replacement, perform small repairs immediately and tell you whether or not it's a better investment to replace your roof or repair it to extend its life span a few more years. Here at American Standard Roofing, we will be more than happy to help.
Here for All Your Roofing Needs

!