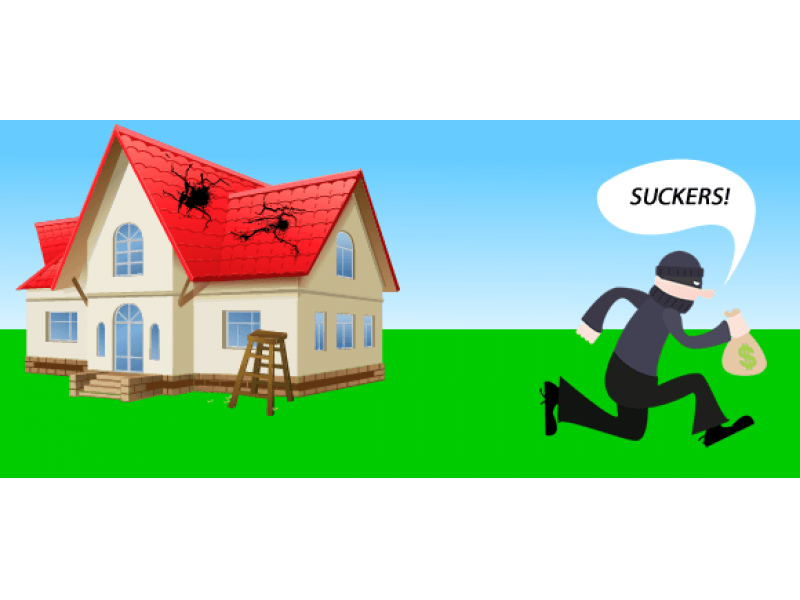 Here at ASR, customer safety and protection are our priority #1. We want to divert the attention of our readers to this post from Betty Sexton of KKTV11 News:
I want to pass on another reason to be very careful about opening your door to a stranger. A Colorado Springs couple who live on the north side of the city tell me they're still shaken about their experience.

Even though they have a "No Soliciting" sign on their front door, a man rang the doorbell, claiming to be a roofer, offering to help them for free. They now believe he had an ulterior motive.

The so-called roofer said he noticed a few loose shingles on the couple's roof. He told them if they had some hot water, he had the glue and material to fix the problem. They tell me, "He seemed like a real nice guy. I think he had a gift of gab." They say the man, in his late 20s, about 5-foot-5 with a muscular build and dark hair was driving a royal blue Ford pickup truck. The man reportedly got some items out of the back of his truck and seemed ready to get to work.

The stranger followed the husband into the kitchen and waited while he ran the tap. He told him the water had to be really hot. Then the man claimed the water wasn't hot enough. He insisted that they boil the water.

That's when the husband got suspicious. Out of the corner of his eye he noticed movement and saw another man had somehow entered their house and was heading out of the bedroom area of their home.

When the husband confronted the second man, who also had dark hair but was younger and smaller, the so-called roofer reportedly said, "Oh, this is my brother. His name is Joey. He's looking under your ceiling for water leaks." Neither the husband nor the wife bought that story. They said the first man never talked about a second man and they have no idea how or when he got into their home. Both men were then ordered out.

The husband told me, "It scared the hell out of me." his wife said, "I still don't feel very safe."

The couple called 911 and a police officer came out and took a report. They checked, but don't believe anything is missing. The couple feels lucky. They've beefed up security and want to share their story so others won't be as trusting as they were.

I've told you about a few other cases where homeowners have allowed a stranger into their homes, who claimed to be with Colorado Springs Utilities. They later learned the man was a crook who had a second, silent accomplice who helped himself to their valuables.

It's no longer safe to open your door to strangers, period. If you're not expecting someone, don't feel compelled to open the door. If you do open the door, keep outsiders outside. Ask to see their credentials, keep the door locked, and call to verify their story.

One more note: 11 Call for Action had such an overwhelming response to our free senior seminar last week, we've decided to hold a second one from 1:30 until 3:30 p.m. on Wednesday, Nov. 18.

Two representatives with the Colorado Springs Police Department will be there as well as the head of Silver Key. It will be at Radiant Church at 4020 Maizeland Road in Colorado Springs. We will focus on the scams targeting seniors.

–

Contact Betty Sexton at bsexton@kktv.com or 578-0000.
Here at American Standard Roofing, we strive to make sure our customers feel safe and secure. Customer satisfaction is our main goal and that includes our high quality craftsmenship, to our safe and reliable crews. Our reputation and reviews speak for themselves. Give us a call today at (248) 350-2323 to schedule your free quote. And remember homeowners, be safe!