Home Maintenance Tips

:

In today's post, our team of experts here at American Standard Roofing discuss some basic home maintenance tips. As the weather changes from bitter cold to sunny spring, these home maintenance tips will come in handy.
Always a Great Idea To Have Professionals Inspect Roof

:
While homeowners are hesitant in calling a professional out just for an inspection, our team suggests that this is one of the good home maintenance tips. If there are any damaged shingles, it is a good time to have them replaced. Shingles that are torn, curling, or buckling can be easily identified by professionals. The professional contractor will also be able to look at homeowners chimney and skylights for better assessment. This is very necessary to prevent leaks from precipitation.
Window Seals Should be Checked

:
Our team advises that window seals can crack or shrink with change in temperatures. One of the best home maintenance tips that we can give homeowners is to intermittently check window seals. We recommend homeowners check for any wind drafts or leaks to identify the source of the problem. A good solution is replacing faulty windows. Our experts also point out that it will also help cut down energy costs during those bitter cold winter months.
Check Gutters & Downspouts Regularly

: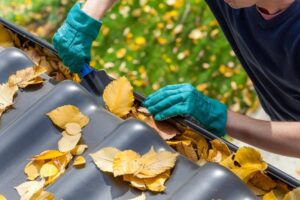 Another one of the many good home maintenance tips we can give to homeowners is pertaining to gutters and downspouts. With onset of spring, trees shed leaves and that can clog gutters causing water to back up. This backing up leads to water going under shingles and getting into crevices. Debris and clogged gutters can also cause damage to roofing material and sidings. We highly recommend using professional contractors to inspect gutters and downspouts.
Home Sidewalks Repairs

:
Winter always takes its toll on the pavements and sidewalks near the homes. Make sure to check them and fix any holes or cracks you might see. As a great home maintenance tip, we recommend cleaning walkways of ice and snow so they don't damage the cement.
Consider Adding a Chimney Cap

:
A chimney cap can be worth your while, our team advises. First make sure that the chimney is cleaned and does not have any issues. Next, have a professional add a chimney cap. This will help in stop those pesky bugs and critters crawling down.
Here for All Your Roofing Needs

!

At ASR, we are certified and licensed roofing contractors. We also have over 36 years of experience in the industry. American Standard Roofing stands behind it's work. We will get you the loan you need for your roof. Our reputation is important to us. We believe in never sacrificing quality for easy profits. We also stand behind our services for the lifetime of the product, both labor and material. That is why we are #1 metro Detroit roofers. Give us a call today at (248) 350-2323 to see how we can help you out.